Submitted by AGORA administrator on
AGORA's management structure consists of two main organs: the Implementing Board and the Partners' Group.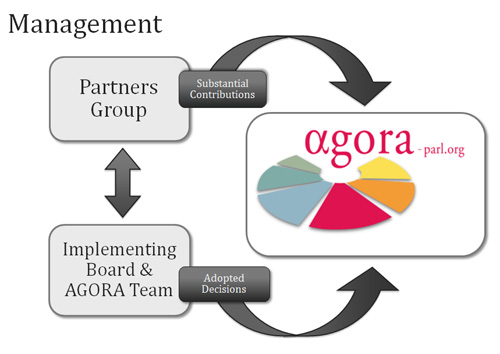 The Implementing Board
The implementing Board carries out the decisions adopted by the Partners' Group. It consists of representatives of the partner organisations that jointly lead and actively support the Portal. The Implementing Board meets at least quarterly.
The functions of the Implementing Board are:
Piloting the Portal by designing a global strategy, a baseline policy and concrete goals;
Establishing annual work plans and budgets, based on the recommendations of the Partners' Group;
Supporting the efficient coordination of the activities listed in the work plan;
Ensuring the availability of adequate financial resources;
Organising consultative meetings in order to examine the progress achieved in the implementation of the programme;
Developing new partnerships.
The Knowledge Manager is a full member of the Implementing Board. It is the Knowledge Manager's responsibility, with support from the Implementation Board and the Portal team, to implement the guidelines and decisions from the Implementing Board and Partners' Group and to ensure that the Portal functions smoothly.
AGORA's Implementing Board consists of:
The Partners' Group
The Partners' Group is made up of institutions (Partner Organisations) that make substantial contributions, financial or otherwise, to the Portal. This Group meets annually to discuss the results, perspectives and annual plan of the Portal.
The functions of the Partners' Group are:
Approving the overall strategic direction, broad policies, and objectives of AGORA;
Approving annual work plans and budgets;
Overseeing the annual performance review and adoption of relevant performance indicators.
In addition to the members of the Implementing Board, the Partners' Group consists of: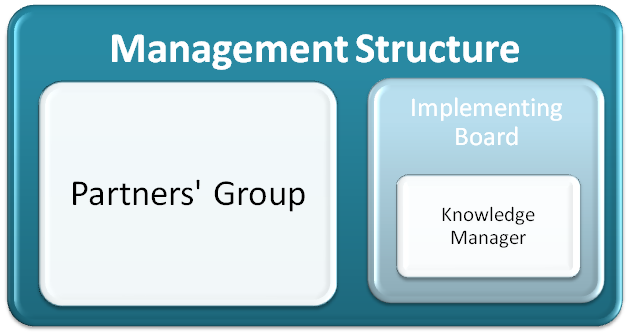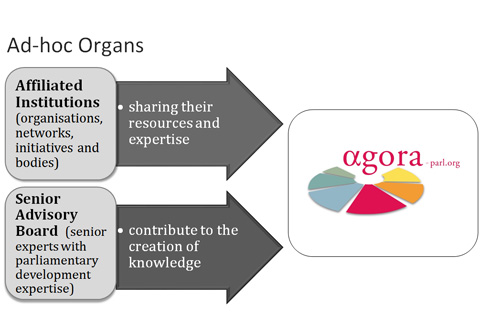 Affiliated Institutions
The Affiliated Institutions are organisations, networks, initiatives and bodies, active in parliamentary development and/or parliamentary affairs, or in related issues. They have committed to sharing their resources and expertise with the parliamentary development portal. They do not formally form part of the management structure but serve to support the Portal's objectives with respect to knowledge and networking.
These institutions are: