Submitted by AGORA administrator on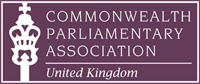 The Commonwealth Parliamentary Association UK Branch (CPA-UK) is one of over 175 branches of the Association. Its membership is made up of Members of the United Kingdom Parliament, from both the House of Commons and the House of Lords.

CPA-UK provides opportunities for UK Members of Parliament to liaise with fellow parliamentarians across the Commonwealth in a number of different forums, including seminars, conferences, and parliamentary visits. It also acts as a point of contact within Westminster for Commonwealth Members of Parliament visiting the UK.

One of CPA UK's priorities is to facilitate sustainable parliamentary strengthening activities throughout the Commonwealth and occasionally elsewhere, often in partnership with other parliamentary, government and non-government organisations in the UK and the Commonwealth.
Website
Project Mapping