Submitted by AGORA administrator on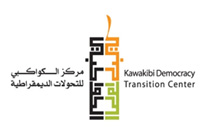 The Center aims at enhancing the contribution of Arab civil societies in the process of democracy that would enhance the viability of national sovereignty and nationalism, and develop elements of good governance based on social justice, economic development and the achievement of equality between men and women.
It will also include a broad popular participation in decision-making as embodied in the rule of law, the institutions and the respect for human rights. It guarantees all individual and collective freedoms, transparency and the peaceful rotation of power and respect.
The Center works on promoting and implementing a number of complementary activities within the framework of its main objectives.
These consist of: Spreading democratic culture and practices through dialogue and peaceful interaction; Building local high-level capacities and expertise in diagnosing, accompanying, and framing the democratic transitions, and developing alternatives; Encouraging dialogue between political decision makers and actors of the civil society about democratic transition issues; Stimulating the exchange and transfer of expertise between experts, representatives of the civil societies, and political actors in the field of democratic transitional trends at different levels (the Middle East, the Arab region and internationally); Building an expertise clearinghouse to provide appropriate capacities for training, research, strategic planning, implementation and follow up, in order to support the democratic changes in the Arab region and the Middle East.
Project Mapping