Submitted by AGORA administrator on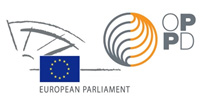 Since 2008 the European Parliament's (EP) support to new and emerging democracies has been developed through the Office for Promotion of Parliamentary Democracy (OPPD), which operates within the Directorate-General for External Policies of the European Parliament. The OPPD support programme is aimed at new and emerging democracy (NED) parliaments beyond the borders of the European Union. The OPPD assists in the establishment and reform of these parliaments and aims at strengthening their capacity to implement the chief functions of lawmaking, oversight and representation. The creation of the OPPD responds to a rapidly increasing demand for support of NED parliaments and the willingness of the EP to actively share its experiences and expertise.
The main characteristics of the OPPD-EP parliamentary development support include: Demand-driven support for institutional capacity-building; Long-term relationships with NED parliaments based on equality and a joint ownership of customized support programmes; Peer-to-peer support and exchange of experiences; Coordination with other EU institutions and international actors; Capacity to provide follow-up to electoral observation missions (EOM).
Project Mapping