Submitted by AGORA administrator on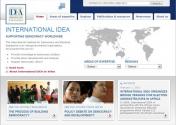 While mainly focused on providing democratic electoral assistance for developing nations, the International Institute for Democracy and Electoral Assistance (IDEA), launched in 2010 two programs aimed toward Parliamentary Development: Democracy and Development and Political Parties, Participation and Representation.
The Democracy and Development programme is committed to promoting global policy discussions, knowledge and practical tools to strengthen political institutions to deliver on development, and to promote democracy building in international development efforts. It has three main objectives: (a) Strengthen democratic accountability in service delivery; (b) Strengthen political institutions in development; and (c) Strengthen democracy in the new aid architecture.
The Political Parties, Participation and Representation programme will continue to provide direct support to political parties and promote gender equality, while also focusing on two new areas: the first of these is building cooperation and consensus within the prevailing political culture of competition; and the second looks at the political cycle of accountability. This refers to the relationship between the State, the citizen as the voter who can demand accountability, and the citizen as the beneficiary of results delivered by the political system.