Submitted by AGORA moderator on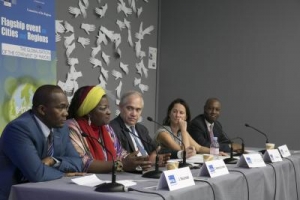 The twenty-second session of the Conference of the Parties (COP 22) is being held throughout the month of November in Marrakesh, Morocco. A few side events are taking place during the COP22, and on the 15th of November happened the Global Covenant of Mayors in Sub-Saharan Africa. The conference was held by the European Commission Directorate General for International Cooperation and Development (DG DEVCO).
The premise of the Global Covenant of Mayors in Sub-Saharan Africa is to bring together local authorities from the region with the aim to discuss sustainable energy policies at the municipal level. The objective is to facilitate universal access to sustainable and efficient energy services in order to move towards less climate change and to give a platform for inclusive green economy policies.
Where it comes from?
The Covenant of Mayors in Sub-Saharan Africa was established during the 2015 COP 21 in Paris. By 2050, the urban population of the region is expected to reach 1.26 billion people. To secure a sustainable future, local authorities need to keep greenhouse emissions low and to ensure access to reliable and modern energy.
The European Commission has launched the Sub-Saharan chapter of the Covenant to support local authorities to deal with these issues. The platform is meant to increase their planning capacity through knowledge sharing and best practices.
One of the main goals of the Covenant is to provide support for the drafting of the Sustainable Energy Access Climate Action Plans. The European Commission established a long term vision for cities in developing countries. Due to unsustainable energy use, urban areas in developing countries tend to be more vulnerable to climate change than those in the developed world. This is why improving energy efficiency and increasing access to sustainable energy while minimizing dangerous emissions are among the most important goals of the Covenant.
Africa
The rate of urbanization in Sub-Saharan Africa has increased rapidly and often uncontrolled. Moreover, urban settlements tend to come with an informal system of living arrangements.  Therefore, such cities need a more efficient and beneficial urban planning, transport system, sustainable energy and use of production to stimulate the local economy, to advance social development, and to improve the life of their populations.
The African Covenant of Mayors recognizes that cities and citizens need to improve local living conditions to alleviate poverty, by developing platforms for empowering development and to improve local economies. It also aims to promote access to basic and resilient services linked to energy, and to establish appropriate energy planning in light of the population growth - preserving local resources and preventing the degradation of natural resources.
"The global objective of this call for proposals is to increase the capacities of cities to provide access to sufficient, sustainable and safe energy related services to urban and peri-urban populations (especially the poor), with special attention to energy efficiency and renewable energy as drivers for local, low emission, climate resilient, sustainable development."
COP 22 and the Covenant of Mayors in Sub-Saharan Africa
The Global Covenant of Mayors in Sub-Saharan Africa objective is to bring together mayors from the region to lead the way for local governments to address challenges regarding energy efficiency. Cities selected to represent Sub-Saharan Africa presented action plans to reduce climate change and enhance energy efficiency on their own territory. This step marks a landmark commitment that local authorities in Sub-Saharan Africa have in developing a network that fosters a city-to-city cooperation.
Joao Lucas Id
Intern at AGORA Portal for Parliamentary Development