Submitted by AGORA member on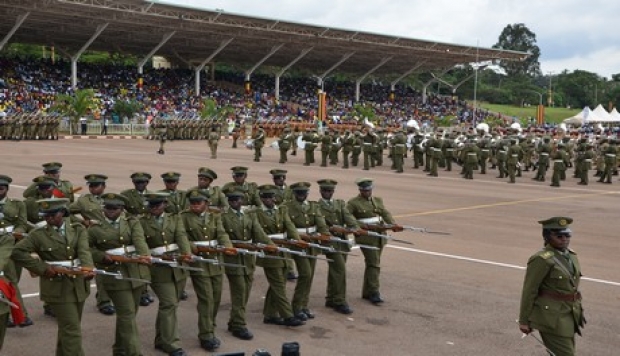 Parliament has approved the establishment of an East Africa Standby Force intended to enhance peace and security in the region.
In a similar Motion, the House also approved another motion providing for cooperation in defence affairs in the East African region. Parliament, as provided by the Constitution, also ratified both protocols - the EAC Protocol on Cooperation in Defence Affairs and the Agreement for the Establishment of the East African Standby Force (EASF).
The Deputy Speaker, Rt. Hon. Jacob Oulanyah, said that Uganda had adopted a two way ratification process of protocols, hence the need for parliamentary approval.
The Chairperson of the Committee on Defence and Internal Affairs, Hon. Judith Nabakooba, who presented both reports said that the President had ratified the protocols, which now required parliamentary approval.
The President signed the East African Community Protocol on Cooperation in Defence Affairs on 28th April 2012, later ratifying the Agreement for the Establishment of the EASF on 26th June 2014.
"The East Africa Standby Force (EASF) was established as a regional mechanism to provide capability for rapid deployment of forces to carry out preventive deployment, rapid intervention, peace support/stability operations and peace enforcement," said Nabakooba.
The East Africa Standby Force is one of the five regional multidimensional forces of the African Standby Force consisting of military, police and civilian components. The Force currently draws its membership from ten active Member States of Burundi, Comoros, Djibouti, Ethiopia, Kenya, Rwanda, Seychelles, Somalia, Sudan and Uganda.
The Committee on Defence and Internal Affairs said in the Report that the signing of the agreement by the President was consistent with the provisions of the Charter of the United Nations; the Constitutive Act of the African Union and the Protocol relating to the Establishment of the Peace and Security Council of the African Union.
Hon. Nabakooba said that the purpose of the Agreement is to establish a mechanism for the prevention, management and resolution of inter and intra state conflicts, consultation and cooperation for peaceful settlement of disputes.
"The Protocol highlights the commitment of Uganda to the establishment of a framework for close cooperation in defence affairs for the promotion of peace, security and stability within and good neighbourliness as an EAC Partner States," she said.
Observing that Uganda has always defaulted on its financial obligations to regional and international bodies, the Committee recommended that government ensures sufficient allocations in the budget to meet the country's contribution to the EASF to avoid the imposition of sanctions.
Parliament agreed with MPs Hon. Jacob Oboth (Ind., West Budama South) and Elizabeth Karungi (NRM, Kanungu district), who moved that since the agreements were in conformity with Uganda laws, the UN and AU, Parliament should proceed with the approval without debate.
Cross posted from Parliament the Republic of Uganda: http://www.parliament.go.ug/index.php/about-parliament/parliamentary-new...