Submitted by AGORA moderator on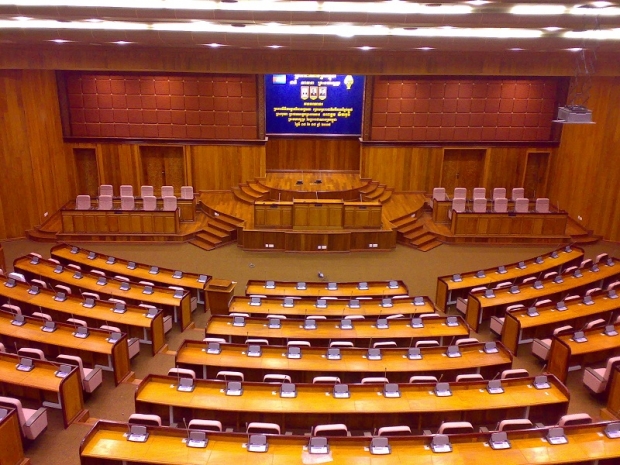 Cambodia's Prime Minister Hun Sen has called on the country's Ministry of the Interior to investigate and shut down a leading human rights group in a move that appears linked to charges of treason facing opposition leader Kem Sokha and the recent dissolution of his Cambodia National Rescue Party (CNRP).
In a speech addressing thousands of garment workers in the capital Phnom Penh on Sunday, Hun Sen said that the Cambodian Center for Human Rights (CCHR)—cofounded by Kem Sokha in 2002—"will have to be shut down" because it was "commissioned in accordance with foreign ideas."
"The ministry of interior needs to look into this matter, because it was created by foreigners, not by Cambodians," Hun Sen said.
"This involves a Cambodian [Kem Sokha] who followed foreigners to create the center in Cambodia. This is the same guy who incited people to topple the government … We have laws that prohibit Cambodians from contacting or serving foreign powers."
Kem Sokha was arrested on Sept. 3 for allegedly collaborating with the U.S. to overthrow the ruling Cambodian People's Party (CPP)—charges the U.S. embassy has rejected. Cambodia's Supreme Court on Nov. 16 unanimously ruled that the CNRP be dissolved for its part in the plot, essentially eliminating any competition to Hun Sen ahead of a general election scheduled for July 2018.
Hun Sen's government has faced widespread condemnation in recent months over its actions targeting the CNRP, as well as for orchestrating the closure of independent media outlets and cracking down on nongovernmental organizations.
In response to Hun Sen's comments, CCHR issued a statement Sunday affirming its "non-partisanship" and "independence from all political parties."
"Strict independence is a core value of CCHR, which strives to provide a balanced and principled human rights analysis of public affairs, without favoring any party," the statement said.
"In fact, CCHR is one of the very few groups in Cambodia which has faced backlash from both the ruling party and the opposition as a result of its principled criticism of their policies, actions or rhetoric."
CCHR said it believes that any independent and impartial investigation into its activities would "find no wrongdoing whatsoever," and called on the government to enter into dialogue in order to resolve allegations against it.
Other reactions
Pa Nguon Teang, executive director at the Cambodian Center for Independent Media and cofounder of the CCHR, told RFA's Khmer Service that he had "grave concerns" over Hun Sen's remarks, noting that the rights group and other NGOs had played important roles in building the nation over the past two decades.
"It's completely wrong to say that the center was created by foreigners," said Pa Nguon Teang, who is also the director of the independent Voice of Democracy Radio station in Cambodia.
"If Hun Sen orders the closure of the CCHR based on the accusation that it is funded by foreign funds, then he will have to close down all NGOs in Cambodia, as none of them receives funds from the Cambodian government—they are all funded by foreign governments."
While CCHR receives foreign funding, he said, the organization works to improve human rights and democracy in Cambodia, and thus benefits Cambodians.
"If this center is closed, Cambodians will be the ones who lose," Pa Nguon Teang said.
"Hun Sen is selfish. He is trying to consolidate and cling on to power through political repression of NGOs, the free press, and the opposition, using the law as a façade."
New York-based Human Rights Watch also weighed in on Hun Sen's comments Monday, urging international donors to pressure the government to end its investigation into the CCHR and permit the group to continue its rights work.
"Prime Minister Hun Sen needed little time after shutting down the main opposition party to go after a major human rights group," Brad Adams, Human Rights Watch's Asia director, said in a statement.
"The prime minister is showing his fear not only of free elections, but of free expression and association."
Human Rights Watch said that the current crackdown in Cambodia appears linked to concerns that the CPP may lose next year's ballot, following significant gains by the CNRP during the 2013 national elections and commune elections held in June this year.
It said that the U.S. and European Union "should do more" than recent threats of action in response to the crackdown, and called on Cambodia's donors and trade partners to impose targeted sanctions, including asset freezes and travel bans, on Hun Sen and senior members of the CPP and Cambodia's armed forces.
"Hun Sen's increasing attacks on Cambodia's human rights groups are nearing the point of no return," Adams said.
"Without a legitimate political opposition in the country, Cambodians need a vibrant and independent civil society more than ever."
Parliament changes
Hun Sen's call for the shuttering of the CCHR came as 44 officials from three minor government-aligned political parties that failed to win seats in Cambodia's 2013 general election gathered at the National Assembly, or parliament, Sunday to be recognized as new lawmakers, following the dissolution of the CNRP and reallocation of its 55 seats.
According to amendments to the electoral law recently passed by the CPP-majority parliament, the National Assembly announced Sunday that it would reallocate 41 of the CNRP's seats to the royalist FUNCINPEC party, two to the Cambodian Nationality Party, and one to the Khmer Economic Development Party.
The League for Democracy Party and Khmer Anti-Poverty Party refused to accept six and five of the CNRP's former seats, respectively. Those 11 seats now belong to the CPP.
CNRP deputy president Eng Chhay Eang—who has fled Cambodia fearing retaliation from the CPP along with more than half of his party's lawmakers—posted a photo of the new lawmakers in front of the National Assembly building on his Facebook page Sunday, commenting that "these are the people who have robbed the people of their votes and will."
His post echoed a statement from the CNRP last week, after the National Election Committee (NEC) submitted a list of reallocations for the party's 55 seats, which said the electoral body had "colluded with the CPP and the Supreme Court to rob Cambodians of their legitimate votes."
Kem Sokha's lawyer, Hem Socheat, noted that the National Assembly's mandate lasts for five years, according to Cambodia's constitution, and likened the redistribution of the CNRP's seats to "dissolving" parliament.
Political analyst Lao Mong Hay also questioned the legitimacy of the redistribution, saying that the more than three million people who had voted for the CNRP would no longer enjoy representation in parliament.
"[The new members of parliament] are not the representatives of the people—I don't know who they represent," he said.
"Based on the constitution, a lawmaker is legitimate only after he is elected in a free and fair election."
Reported by RFA's Khmer Service. Translated by Nareth Muong. Written in English by Joshua Lipes.