Submitted by AGORA moderator on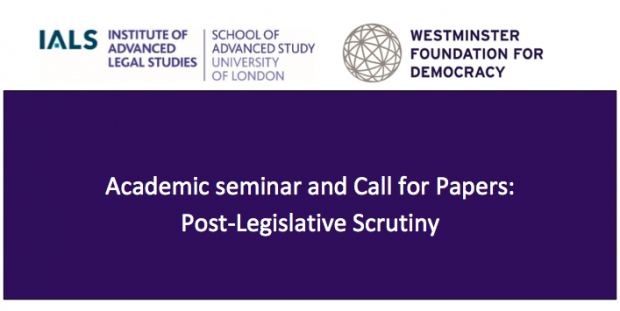 Academic seminar and Call for Papers: Post-Legislative Scrutiny
Co-organised by the Institute of Advanced Legal Studies of the University of London and the Westminster Foundation for Democracy (WFD)
London, Tuesday 10 July 2018
Background
Parliament has a responsibility to monitor the extent to which the laws it has passed are implemented as intended and have the expected impact. Therefore, Post-Legislative Scrutiny is an important tool for increasing government accountability and is part of the oversight role of parliament.
Despite its importance for the respect of the rule of law, it is not uncommon for the process of reviewing the implementation of legislation to be overlooked. In several countries, there is the risk that laws are passed but not applied, that secondary legislation is not adopted, or that there is insufficient information to assess the actual state of a law's implementation and its effects.
Implementation is a complex matter depending on the mobilisation of mechanisms, funds and different actors. Implementation does not happen automatically, and several factors can affect its course, including: changes in facts on the ground, diversion of resources, deflection of goals, resistance from stakeholders and changes in the legal framework of related policy fields.
Implementation of legislation depends on the clarity of the legislative text, the compatibility with other laws, constitution and international obligations, the resources (human, financial) accessible to implement the law, the availability of secondary legislation, and the accessibility of laws to those in charge of its enforcement.
As parliaments start to pay more attention to implementation and begin to create specific procedures to oversee it, three main benefits emerge from the process of Post-Legislative Scrutiny:
Post-Legislative Scrutiny is a broad concept, consisting of two dimensions. First, it looks at the enactment of the law, whether the legal provisions of the law have been brought into force. Second, it looks at the impact of legislation, whether intended policy objectives have been met, if implementation and delivery can be improved, and if lessons can be learnt and best practices identified. It is recommended that parliaments look at both dimensions of Post-Legislative Scrutiny.
Throughout 2017, the Westminster Foundation for Democracy (WFD) worked with partnering parliaments to help expand their internal capacity to review how a new law has worked in practice. WFD developed three tools on Post Legislative Scrutiny: Comparative Study on Post-Legislative Scrutiny in parliaments in 10 countries; Principles for Post-Legislative Scrutiny by Parliament; and, a Guide for Parliaments on Post-Legislative Scrutiny. WFD supported emerging practices in the conduct of Post-Legislative Scrutiny in the parliaments of Indonesia, Myanmar, Pakistan, Lebanon and Algeria, and deepened its cooperation on Post-Legislative Scrutiny with the UK House of Commons, the Scottish Parliament and the Swiss Parliament.
Seminar
For 2018, the Institute of Advanced Legal Studies of the University of London and the Westminster Foundation for Democracy (WFD) are cooperating on the organization of an academic seminar on Post-Legislative Scrutiny, which will result in the publication of a Special Issue of the European Journal on Law Reform on Post-Legislative Scrutiny, published by the Institute of Advanced Legal Studies of the University of London.
Call for Papers
As part of the preparatory process for the seminar, there is a Call for Papers. Academics, parliamentarians and senior parliamentary staff, WFD staff and other parliamentary development practitioners, and legal / governance experts are invited to respond to the Call for Papers. We invite submissions of abstracts (approx. 2 pages or 1,200 – 1,400 words) and full papers (8 to 12 pages or 4,500 to 6,000 words). Abstracts should be submitted by 5 April 2018 16 April 2018. Abstracts will be reviewed, and the authors of accepted proposals will be notified by 15 25 April 2018.They will be expected to submit full papers by 15 June 2018.
For more information, click here.