Submitted by AGORA moderator on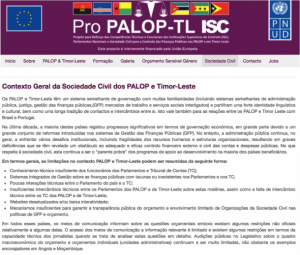 Civil society organizations (CSOs) have been a key stakeholder in the Pro PALOP-TL SAI. The project has established a community of practice of CSOs, Supreme Audit Institutions, Ministries of Finance and Parliaments and across the PALOP and Timor Leste, leveraging their synergies for stronger public financial oversight and greater budget transparency.
To support CSOs engaged in the national budget analysis and advocacy in PALOP-TL and beyond, the project has set up an online civil society platform.
Civil society organizations will find such resources as:
Avenues for public participation in the budget process
Overview of main challenges for civil society actors and ways to address them
Examples of best practices
Mapping of existing public participation initiatives in the PALOP-TL
Useful resources, such as examples of participatory budgets
Public participation in the budget process: why is it important?
Adequate public financing is critical for ensuring that any law and policy achieves its intended results. Furthermore, ensuring accountability of public financial management is critical to strengthening democratic practices at large, fighting corruption and making sure the public funds serve their intended goals.
Public participation is an important way of making sure that public financial resources are invested effectively in the pursuit of a country's development objectives and, to use the 2030 Agenda terminology, leave no one behind. Allowing all stakeholders – citizens, representatives of civil society, academia or private sector – to influence, monitor and learn from the budget process, can and should occur throughout the budget cycle and should be facilitated by all layers of government, from ministries to municipalities.
Strong, formalised public consultation processes are an important way of ensuring that the parliament's information is up-to-date and accurate, and that it reflects the needs and the realities of all citizens. With equal and inclusive societies at the heart of the Sustainable Development Goals (SDGs), this is especially important; engaging civil society is vital to ensure that budgets reflect local concerns and needs.
Citizen participation complements the work of government, parliament and the supreme audit institution - it does not replace it.  People must be given meaningful opportunities to participate in the budget process, but the role and responsibilities of these institutions must be strengthened in parallel. Civic engagement initiatives should provide concrete inputs to government, parliament and the SAI to work with, and procedures should be put in place to make sure that such inputs are properly addressed. 
Benefits for parliaments
Civil society groups around the world – especially those with fiscal and public policy expertise, policy advocates and researchers, to name some – have become increasingly involved in assessing and influencing the budgets of their countries. NGOs, academia, think tanks and the private sector can support the legislature with research and analysis capacity, additional data, public outreach and trainings. The benefits of citizen's input into any given stage of the budget cycle can be invaluable. This is especially the case for parliaments whose budgetary capacity can, in reality, be severely limited by a number of factors. Poor research capacity, expert staff shortfall and lack of resources are problems endemic to parliaments in developing countries. A weak committee system, incomplete budget data from the executive and insufficient review time, however, are among the obstacles encountered by parliaments all over the world.
Publicly available, easily accessible and comprehensible budget information is a basis for meaningful public participation in the budget process. This entails publishing budget documents throughout the budget cycle in a timely manner. Ideally, parliaments will also hold consultations, debates and hearings to solicit citizen's inputs.
Tags: