Submitted by AGORA moderator on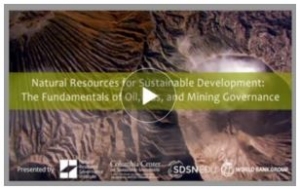 Extractive industries can have major impacts on sustainable development in resource-rich countries, including their achievement of the SDGs. On the one hand, the oil, gas and mining sectors contribute significantly to government revenues, providing critical economic development opportunities; they can boost economic growth and create opportunities for people, including increased employment, access to revenues, and expanded investment in the local community. On the other hand, despite this prospect for development, experience shows that the extractive industries sector often contributes to higher poverty rates, corruption and even conflict. In many countries, the abundance of natural resources such as oil, gas and minerals has had far-reaching negative impacts on the economy, failed to reduce poverty and boost economic growth, worsened inequalities, and resulted in undemocratic practices. The operations of extractive industries, moreover, often lead to environmental degradation, displacement, health problems and lack of economic diversification.This effect is known as the "resource curse".
When natural resources are not governed by strong, transparent and accountable institutions, large, unregulated revenue flow to the government is likely to support large-scale corruption, with policy makers delivering short term solutions to social and economic problems in return for own economic gain. For natural resources to be used effectively and for development purposes, governments, their donor partners, parliaments, multinational corporations, media and civil society can work together to design inclusive, transparent and accountable natural resources management strategies with adequate risk-management measures.
Parliaments have many new ways to push for more open and inclusive legislative reforms of the extractive industries sector. Its three key functions – representation, law-making and oversight – are crucial at every stage of the extractive industry value chain; from the initial decision to extract a resource, to ensuring the fairness of contracts with the private sector, to establishing fiscal and legal framework and, finally, to overseeing that revenue from extractive industries is are well spent and equitably shared, acting as a catalyst for sustainable growth.
This year, the Natural Resource Governance Institute, the Columbia Center on Sustainable Investment, and the World Bank once again offer their online e-learning course Natural Resources for Sustainable Development: The Fundamentals of Oil, Gas, and Mining Governance. The course gives participants an overview of the key challenges and opportunities that come with managing extractive industry investments for sustainable development.
Course Summary
This course, which is offered twice a year, builds knowledge to make the most of oil, gas, and minerals, while mitigating the risks that these industries bring. It outlines the various complex and interrelated aspects of natural resource governance, including: understanding the governance and industry fundamentals; developing and implementing robust and transparent legal frameworks; designing fiscal regimes to capture a fair share of the revenues; managing environmental risks; engaging with communities; leveraging investments for infrastructure and business linkages; and managing revenues for economic diversification and development, among others.
Course Start Date:  Feb 13 2017
Course End Date:  May 15 2017
Source: SDG Academy
For more information and to sign up for the course, follow this link
Keep an eye out on our Extractive Industries Portal, in English and Portuguese.