Submitted by AGORA moderator on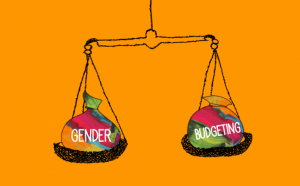 No policy is gender neutral. As such, the national budget—a government's most important economic policy tool and a statement of its priorities—needs to be scrutinized through a gender lens to ensure that it meets the needs of women and men equitably.[1] A significant social, political and economic gender gap remains in the world today[2]; which indicates that national policies and budgets do not equitably allocate resources across the gender spectrum. Policies aiming to advance gender equality are more effective when done hand-in-hand with in-depth gender analysis, and when their implementation is properly financed by the national budget. Gender-responsive budgeting (GRB) aims to evaluate, and then balance, the gendered impacts of policies by scrutinizing key national budget documents and processes through a gender lens. GRB also identifies opportunities to spend money on the empowerment of women and girls which are sound and likely to have a high return.
Learn more: SDGs, Parliaments and Budgets
At: http://bit.ly/SDGBudgets
This course looks at how parliaments in cooperation with Supreme Audit Institutions (SAIs) and civil society organisations (CSOs) can strengthen their capacities to deliver more inclusive, accountable and open budgets for the implementation of the Sustainable Development Goals (SDGs).
Mind the gap: gender equality by 2030 or 2117?
The global gender gap is widening: according to the 2017 Global Gender Gap Report, the average progress on closing the global gender gap stood at 68.0% in 2017 (down from 68.3% in 2016).[2] If the development continues at the current pace, the global gender gap will not be closed before the year 2117 across the 106 countries covered in the report. The gender gap is the most flagrant in the economic and health spheres: due to the continued widening of the economic gender gap, it will not be closed for before 2234. However, the education–specific gender gap could be on track to parity by 2030. Wile the political gender gap is currently the widest, it is also the one exhibiting the most progress: despite a slowdown in progress this year, it could be closed by 2116. With this in mind, delivering on SDG 5—Achieve gender equality and empower all women and girls—by 2030 will require urgent political action.[4] Many factors impact the gender gap, but fundamentally, the budget determines access and delivery of public services and substantially impacts a country's economy. As such, gender-sensitive budgeting practices can be expected to lay the groundwork for the closing of the gap.
Gender-responsive budgeting: An introduction
Delivering on the global commitments towards gender equality requires deliberately including a gender perspective across the full policy framework of a country, and by extension, the budget behind it. Additionally, it calls for targeted investments aimed at specific gender gaps across regions, sectors of activity and social strata. Gender-responsive budgeting "combines technical knowledge for equitable policymaking with advocacy and organising to engage with powerful interests and institutions."[3: p.11]  Concretely, this entails including an additional layer of in-depth analysis to identify areas of intervention throughout the budget cycle, and in policy implementation overall, for the advancement of women's rights. Gender budget work typically starts with capacity building for relevant institutional actors (such as government ministries) for GRB analysis, followed by a pilot stage of changes to policies and programmes based on analysis, and then the final stages where GRB is institutionalised and systematically integrated[3, 5]: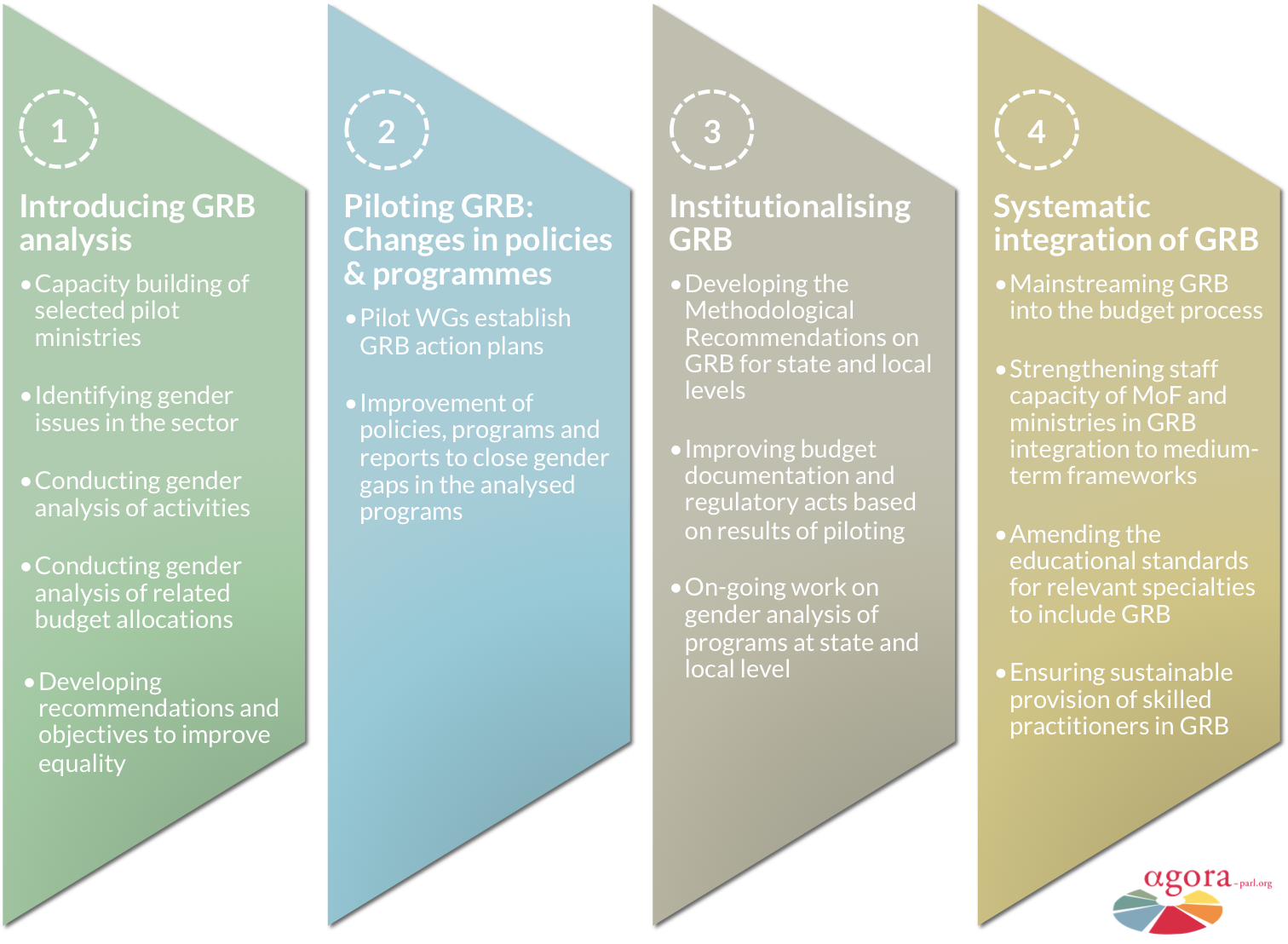 Diane Elson's Six Tools provide a useful roadmap for gender-responsive budgeting:
Gender-aware policy appraisal

Includes qualitative and quantitative analysis
Often used by civil society groups
Can be used by government, e.g. for CEDAW

Beneficiary assessment

Way of hearing voices of citizens
Should include potential as well as actual beneficiaries
Can focus on overall priorities or particular services
Can be used by government or civil society

Gender-disaggregated public expenditure incidence analysis

Formula: Unit cost of providing service x number of units delivered to male and female beneficiaries
Difficult/impossible if service not delivered to individuals
Depends on data availability

Analysis of impact of the budget on time use

Accurate estimates require time use data
Can be done based on logical analysis if data not available

Gender-aware medium-term economic policy framework

Framework or model?
If framework, why only economic?
Models can have variables such as labour supply disaggregated
Models can include unpaid care economy if data available
Civil society groups may not have capacity to model

Gender-responsive budget statement

Government tool of accountability
Easiest if programme/performance budgeting format
Can use some of the other tools
Source: https://www.ndi.org/sites/default/files/Gender%20Responsive%20Budgeting%...
Best practices from Pro PALOP-TL SAI: Public financial management for gender equity
Since 2014, the Pro PALOP-TL SAI project pioneers gender-responsive budgeting in Portuguese-speaking Africa through capacity building, technical assistance, counseling and facilitation of South-South cooperation, particularly to Women Parliamentary Groups in PALOP and East Timor. The Pro PALOP-TL SAI approach to gender budget work is an integrated model, and follows the recommendations of the Fifth World Conference on Women: Equality, Development and Peace held in 1995 by the United Nations in Beijing.
 
Pro PALOP-TL SAI GRB Portal
To assist Portuguese-speaking stakeholders around the world on GRB, the Pro PALOP-TL SAI project has set up a dedicated GRB Portal. This online resource offers technical assistance, examples of the project's activities on GRB, the project's model of integrating gender in the national budget analysis as well as GRB mapping across the PALOP and Timor Leste.
Technical Assistance on GRB and Parliamentary Budgetary Surveillance in PALOP and East Timor
Throughout 2017, the project strengthened and consolidated its support in the area of GRB by undertaking various initiatives throughout PALOP and Timor-Leste;
Pro PALOP-TL SAI intervention in the area of Gender-Responsive Budgeting had as its main objective to contribute to effective budgets for gender mainstreaming, and the implementation of public accounts monitoring and evaluation systems, respecting the national context and priorities of each country;
These actions addressed the networks of women parliamentarians, parliamentary committees, civil society organizations (CSOs), as well as other relevant actors or partners to advance gender budgeting processes in the PALOP and Timor-Leste.
Country Focus: Guinea-Bissau
In Guinea-Bissau, gender equality is enshrined in the Constitution. The National Policy for the Promotion of Gender Equality and Equity (PNIEG) aims at transforming the existing political momentum into a tangible commitment on the part of the State and its citizens. The policy was reviewed in 2016 (PNIEG II) and has an Action Plan for the Promotion of Gender Equality and Equity for the period 2016-2025. The country also has a National Plan of Action for Prevention, Protection and Fight against Gender-based Violence.
The Ministry of Women, Family and Social Cohesion is the government body responsible for formulating, proposing, coordinating and implementing the Government's policy in order to promote integration and social cohesion and poverty reduction. The Institute for Women and Children (IMC), was created in 2001 under the Ministry's mandate to improve the performance of government intervention in this area.

At parliamentary level, there is the Permanent Specialized Commission for Women and Children (7th CEP). The Network of Women Parliamentarians of Guinea Bissau is made up of all female Members of the Parliament of Guinea-Bissau. In 2014, 14 female MPs were elected.

Technical Assistance on Gender-Responsive Budgeting, under the auspices of the National Assembly of Guinea-Bissau
The Network of Women Parliamentarians of Guinea-Bissau organized, from April 21 to 22, 2017, a workshop on Gender Responsive Budgeting, under the auspices of the National Assembly of Guinea-Bissau and with the support technical and financial support of Pro PALOP-TL SAI.
The aim was to sensitize MEPs, parliamentarians and other national partners on current gender challenges, in particular in the area of gender budgeting, by introducing the basic concepts and tools of gender budgeting for the monitoring and oversight of public expenditure. On the other hand, it was intended to analyze the role of Parliament in the context of Guinea-Bissau's budget cycle and, according to the evaluation outcome, formulate the proposals for the analysis of the budget with a focus on gender.
Written by: Erica Borg
Sources:
[1] Parliament, the Budget, and Gender: A Handbook for Parliamentarians 
[2] The Global Gender Gap Report 2017 
[3] Gender-Responsive Budgeting: A Manual For Trainers 
[4] Sustainable Development Goal 5
[5] Gender Responsive Budgeting: Analysis of Budget Programmes from Gender Perspective 
Further reading: 
UN Women: Introduction to Gender-Responsive Budgeting and Aid Effectiveness 
Video resources:
https://www.youtube.com/watch?v=mquOclPJYPs
https://www.youtube.com/watch?v=oaspHGDnkvs